The Universal Matrix Church
---
Become an Ordained Minister
---
A Non-Denominational Church






---
The Universal Matrix Church was founded to release people from the bondage of traditional religious dogma. Most of the organized churches, cults, sects and congregations of today keep their congregants in bondage. A true church will free men and women.
One of the main tenants of the Universal Matrix Church is that of righteous self determination. The basic belief is to Do that which is right. Every member of this church has the right and the duty to determine what is right for themselves. The members are further guided and encouraged to foster and promulgate the freedom for others to make their own determinations of right and wrong.
Any church should have as its goal to educate and help their fellow human beings to understand and to know how to work together toward a better life here in the now, as well as in the hereafter.
There are many ways to become a minister. The Universal Matrix Church takes its guidance in these matters from the Holy scripture of St. John. In his 15th chapter, John wrote:
"You did not choose me, for I have chosen and ordained you to go and bear fruit--fruit that will last. Then the Father will give you whatever you ask in my name."
The Universal Matrix Church believes in and strongly supports the Constitution of the United States, as it was conceived in the liberty and freedom that was granted to all mankind by our heavenly father.
Our founding fathers saw fit to guarantee our religious freedom. The first article of the Bill of Rights seals and secures our religious freedoms, to wit:
"Congress shall make no law respecting the establishment of religion, or prohibiting the free exercise thereof; or abridging the freedom of speech, or the press; or the right of the people to peaceably assemble, and to petition the government for a redress of grievances."
This sacred promise has been challenged and upheld on many occasions. In one decision, re: the West Virginia Board of Education v. Barnett, 319 US 624, (1943), the United States Supreme Court wrote:
"If there is any fixed star in our constitutional constellation, it is that NO official, high or petty, can prescribe what shall be orthodox in politics, nationalism, religion or other matters of opinion or force citizens to confess by word or act their faith therein. If there are ANY circumstances which permit an exception, they do not occur to us now."
You can now become an Ordained Minister in the Universal Matrix Church. As a member and a Minister of this church you will be legally authorized and empowered to solemnize marriages in most states. You will be entitled to perform baptisms, christenings, preach or teach your own philosophy, conduct funerals, counsel, ordain others into the ministry, and many other things.
As an Ordained Minister of the Universal Matrix Church you will receive an ordination certificate beautifully printed on parchment, and affixed with the official embossed golden corporate seal of the church. The credentials will be executed with the original signatures of the Prefect of Ministries and the church Chancellor.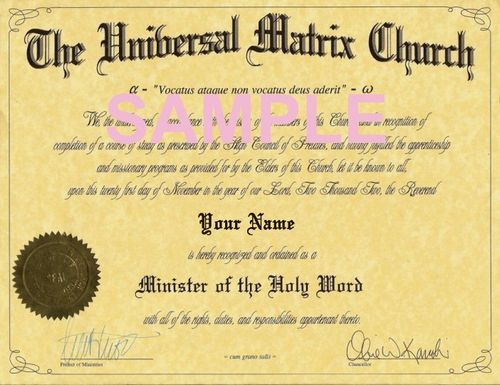 Sample Ordination Certificate
---
There is no cost in becoming an Ordained Minister in the Universal Matrix Church. A small fee of $20 is requested in order to cover the costs of printing, mailing and record keeping at headquarters.

To obtain your ordination credentials, send $20 to:

The Universal Matrix Church

33040 S. Badger Lake Road

Cheney, WA 99004

You may also donate with Visa or Mastercard via PayPal. Send PayPal payment to unmatrix@centurytel.net


Please include your full name, neatly printed or typed exactly as you wish it to appear on your ordaination credentials.

---
Legally recognized and certified
Your ordination credentials will be issued by a registered non-profit corporation recognized by State and Federal governments.
---

See also UMC-BL . .

Send mail to the Universal Matrix Church staff by clicking HERE.

Email: unmatrix@centurytel.net
---